Our philosophy is versatility
Every day in the factory in Altare, Vetreria Etrusca produces up to 16 different items from a catalogue range of over 1,000 different models: not only bottles for still wines, sparkling wines, spirits, olive oil, vinegar, and beer and jars for foodstuffs, but also personalised containers that come with various capacities and in three colours: Extra white flint, Half green and Verdetrusco®.
However, the distinctive character of Vetreria Etrusca's production philosophy has always been its almost unlimited potential to "personalise" the product, both for the items already existing in the catalogue and for original projects to the customer's design in small lots.

Two furnaces
In its factory, Vetreria Etrusca carries out production with two melting furnaces, thus guaranteeing excellent production flexibility. The first furnace is dedicated to the production of containers in the company's symbolic colour, Verdetrusco®, 365 days a year. The second one, installed in 2016, is dedicated to clear glass, with the production of the Extra White flint, alternating with two colour campaigns a year of Half green glass, with a line dedicated to the production of high-end containers. The new "Centauro" furnace has been designed to reduce environmental impact to a minimum.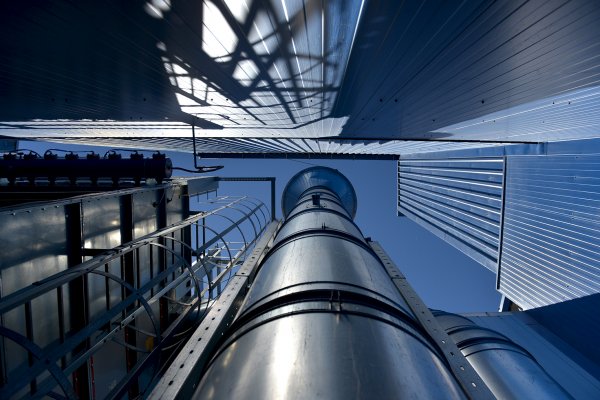 EVEN MORE GREEN - IN EVERY BOTTLE
Vetreria Etrusca lives the environment as an essential asset to be protected and preserved.
With the aim of constantly improving energy efficiency and reducing the environmental impact of its production plant, Vetreria Etrusca is committed to continuous investments in sustainable technologies.
The melting furnaces used in our glass production process are powered by natural gas and electricity.
The combustion of natural gas naturally produces nitrogen oxides (NOx), while sulphur oxides (SOx) and dust are released from the molten glass which are conveyed into the exhaust gasses together with other small components (Chlorine as HCl and fluorine as HF) .
The reduction of SOx, HCl and HF takes place in a reaction tower with an alkaline reagent (lime and / or sodium bicarbonate), while the powders from the molten glass plus those deriving from the de-sulphurisation treatment are captured by an electrostatic filter that purifies all of the exhaust gasses.
To complete the exhaust treatment process and to fully respect the environment, Vetreria Etrusca has equipped its plant with an additional nitrogen oxide treatment plant called DeNoX, one of the first to be installed in Italy, which allowed Vetreria Etruscan to reach a challenging goal: the reduction by 40% of NOX emissions compared to the limits imposed by European legislation.
Vetreria Etrusca puts in place great resources and energies, in the awareness that they are fundamental strategic choices, for an increasingly transparent responsible future.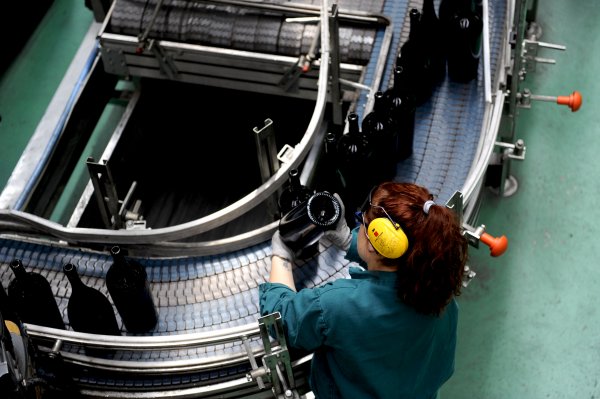 Quality Control
Vetreria Etrusca carries out an accurate control of every step of the production cycle from the choice of raw materials to the melting and moulding cycle, up to the packaging for delivery of the products, and thanks to which Vetreria Etrusca has obtained the prestigious UNI EN ISO 9001:2015 certification. The containers produced are statistically controlled according the Military Standard (MIL STD 105/D) regulations in the laboratory with the most modern quality control equipment. The jars produced are statistically controlled with a "Thermoshock" difference of 40°C.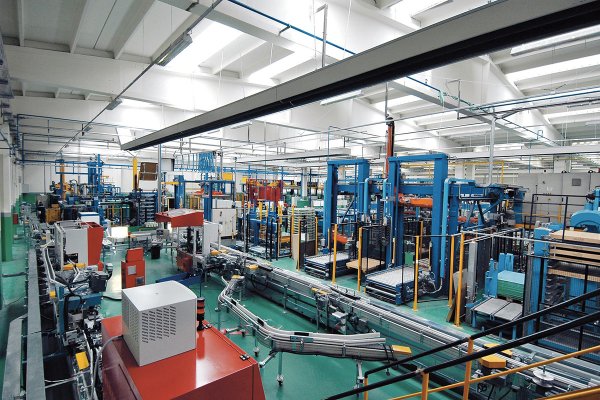 Logistics
A flexible and modern warehouse allows the company to rapidly satisfy all delivery requirements.
Each pallet is identified with a control label bearing all the information of the item's characteristics and its traceability throughout the various production and delivery stages.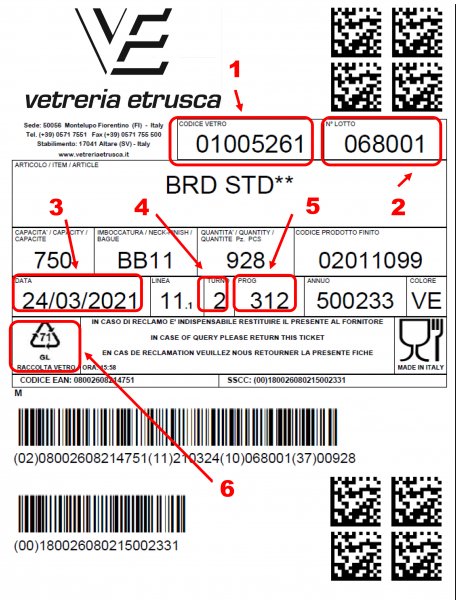 How to read a pallet tag
To ensure traceability of the products, Vetreria Etrusca identifies each individual pallet with a label (tag) bearing the following 5 identification elements.
The essential elements for the traceability are:
Item code
Lot number
Date of production
Shift number
Pallet number
Glass color code
In case of any defects, a copy of the pallet label must be produced. If it is not possible to produce this identification document, it will be necessary to provide the five specifications listed above together with a minimum of 6 representative examples of the alleged defect.

CERTIFICATION
We are really careful what we do. That is why we breathe better and work safely.
Vetreria Etrusca is proud to announce that the three prestigious TÜV certifications have been confirmed for 2018 too.
These certify its care over quality in its manufacturing processes, respect for environmental sustainability, safety in the workplace.
To attain this recognition, Vetreria Etrusca has had a QASH Integral Management System for some time, dedicating considerable resources and energy. This in the awareness that Quality, Environment and Safety are fundamental strategic choices for an increasingly transparent responsible future.
QUALITY

UNI EN ISO 9001:2015
ENVIRONMENT
UNI EN ISO 14001:2015
SAFETY
OHSAS 18001:2007 SWISS TS