Dun and Bradstreet Recognise Vetreria Etrusca with a Rating of Maximum Creditworthiness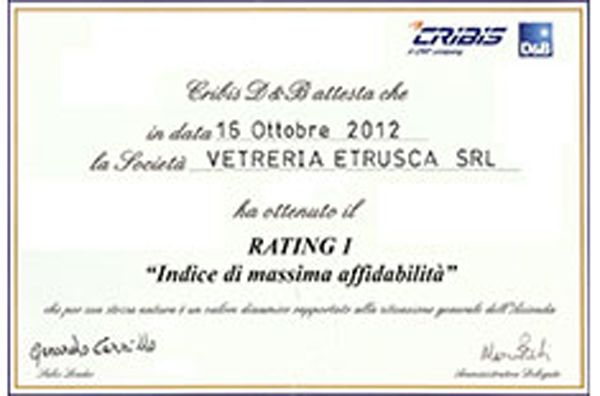 We have been informed, on 16 October 2012 that Dun and Bradstreet, a world leader in business information, have given Vetreria Etrusca a rating of Maximum Economic and Financial Credit Rating 1, given to the company based on the evaluation of our credit risk.
The D&B ratings, expressed in points descending from 100 to 1, constitute a concise index of the creditworthiness (or degree of risk) attributed to each company taken from bank data and indications of the risk of failure of the enterprise in the coming 12 months. The awarding of a Rating of 1 D&B has been given to Vetreria Etrusca following careful analysis of the position of the company, including the following parameters: the age of the firm, the industrial sector, management of the company, the state of invoicing, debts and financial consistency and the regularity of payments.
The rating of Maximum Creditworthiness is testament to the progressive development of income from sales, the growth of operating profits and the continuous improvement of the financial standing of Vetreria Etrusca in the proceeding years.