energy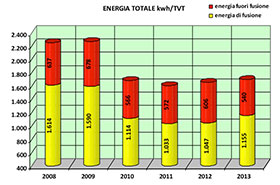 The hollow glass production process uses a lot of energy because of the high temperatures needed by the melting process.
Here too Vetreria Etrusca has made great efforts to innovate adopting lower consumption machines and plants and reducing it by over 25% compared to sector standards.
And it has chosen led technologies to light warehouses and has launched a study on how to heat departments by re-using the heat from the annealing furnaces.
But above all, Vetreria Etrusca has constantly promoted an energy saving culture amongst those working in its plants daily.